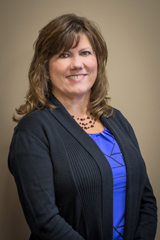 Janet
Howard
Office Manager
Janet Howard serves as office manager and administrative assistant. Her technical skills and ability to navigate technology has generated superior client communication programs and specialized services for clients with specific reporting requirements.
Janet is a graduate of Washington High School and earned an Associate degree from East Central College. She is dedicated to ongoing education and professional development.
She and husband Kent live near Marthasville and are members of St. Paul's United Church of Christ. They have three grown children. Janet enjoys camping, floating, sports and spending time with her granddaughter.